Jaguar XKR 5-Gauge
Analog clock and gauges for boost, oil pressure, voltage, and coolant temp.
Version: 5.1
File Size: 4.84 MB
Creator: XKR2005
Rating: 0
Last Updated: 04-12-2021
Released: 03-08-2017
Downloads: 2635
Views: 13252
Tags: Jaguar XKR X100 supercharged boost pressure coolant temperature voltage battery





0 ratings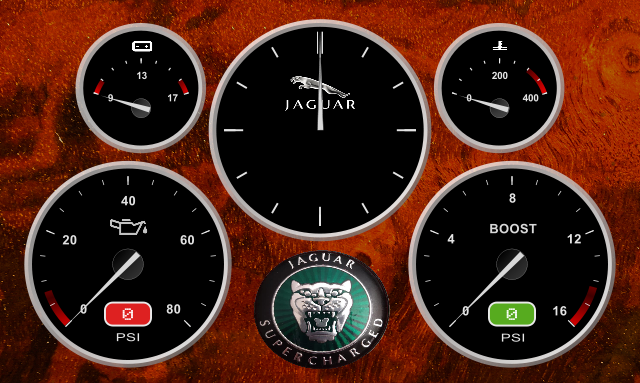 The DVD-based navigation system of the supercharged Jaguar XKR (1996-2006) is obsolete and cannot be updated. If not used for navigation, the screen displays an analog clock. At the same time, the vehicle lacks a boost gauge and an oil pressure gauge. This skin set, when combined with an iPhone, NavTool 3.0, and PLX Devices Kiwi 2 OBDI adapter, vacuum/boost sensor, and oil pressure sensor, remedies these problems. Using NavTool 3.0 and the DashCommand app, this skin set can be mirrored from the iPhone to the navigation screen, showing real-time information on boost and oil pressure as well as an analog clock. Alternatively, the navigation screen can be used to display Google Maps or Apple Maps, thereby giving the XKR a contemporary navigation system.